Eskice Miniatures WW2 German Fallschirmjäger Army Bolt Action WWII 15mm 20 28mm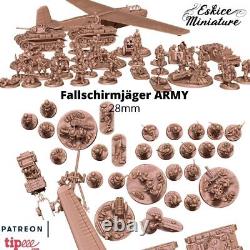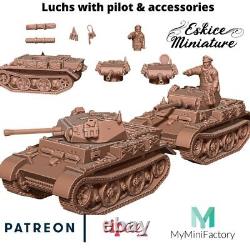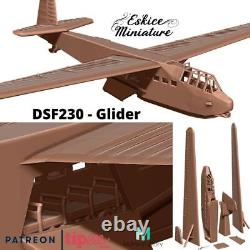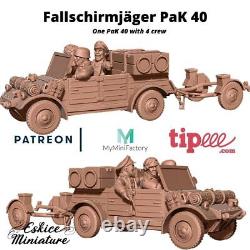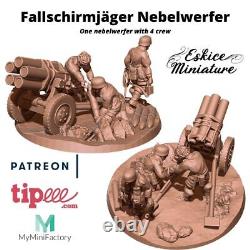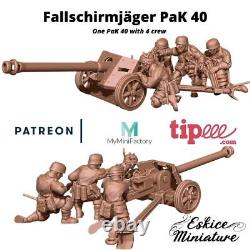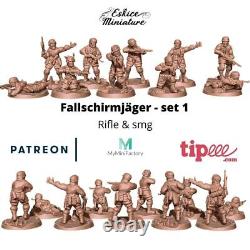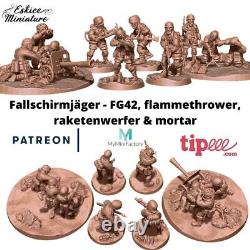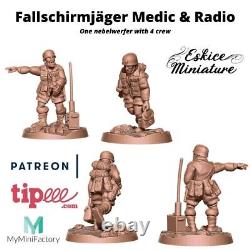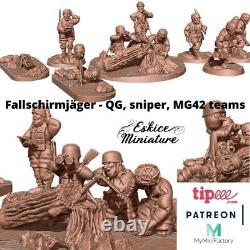 Eskice Miniatures - Select Size: 15mm (1/100), 20mm (1/72), 28mm (1/56), 54mm (1/35). A full army of Fallschirmjäger. 30 fallschirmjäger soldiers with light weapons (rifle, stg, mp, panzerfaust, panzerschreck, radio, doc, QG, sniper, observer, container, flammethrower, fg42). 2 different MG42 team (firing & moving) of 6 figurines + weapon. 2 different MG34 team (firing & moving) of 4 figurines + weapon.
1 mortar team (firing) of 3 figurine + weapon. 1 PaK 40 team (firing) with 4 crew. 1 nebelwerfer team (firing) with 3 crew. 1 raketenwerfer (firing) with 3 crew. 1 kubelwagen with crew & remorque.
2 luchs tank with 2 turret & pilot. 1 DSF230 assault glider (multiparts). Please be careful when removing supports from delicate areas and use clippers! Dipping the figure in almost hot water for about 20 seconds aids in the removal of supports. These products are 3D printed in resin under license from Eskice Miniatures. As with all resin products, it is good practice to clean the model in soapy water or alcohol before priming and painting.
Miniatures supplied unassembled and unpainted. Please remove supports with care and utilize your favorite pair of clippers. Beware of small, fragile parts such as fingers, ropes, etc!