WW II German Army Einheitzlanterne 42 STEEL FIELD AND BARRACKS LANTERN RARE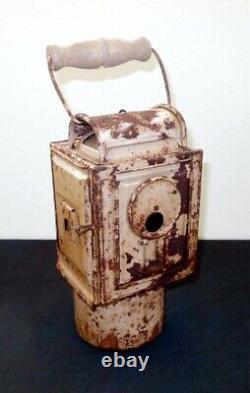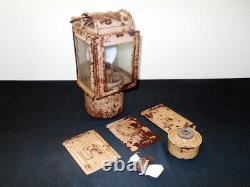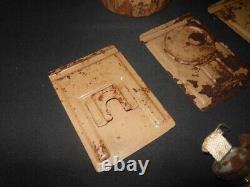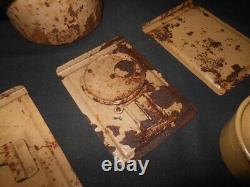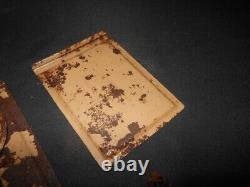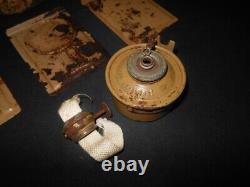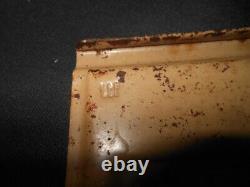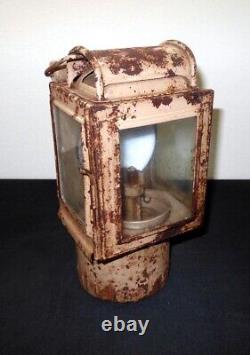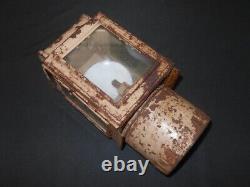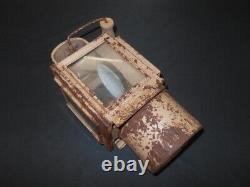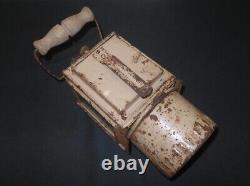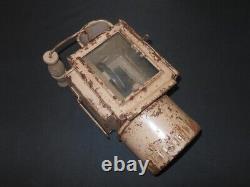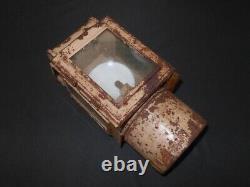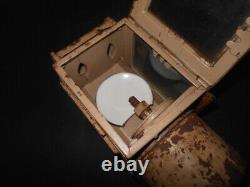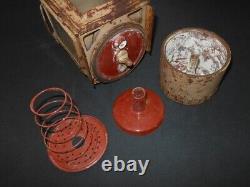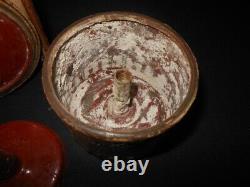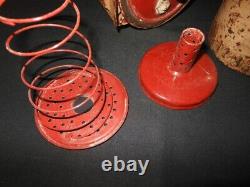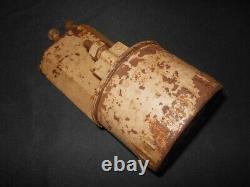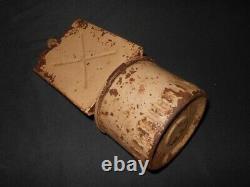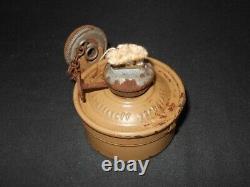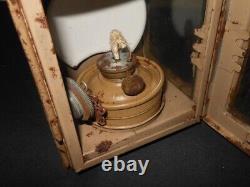 This was a standard issue item, used by all branches, including the Heer, Luftwaffe, and Kriegsmarine! This lantern was intended to serve a variety of purposes in the field. It is made almost entirely of plastic, with a few parts made of zinc, aluminum, and glass.
Although it is resistant to all weather conditions, it is less durable than steel or brass, and the Germans admit that it must be handled with care. The most notable feature of this piece of equipment is its adaptability for different purposes. The principal means of illumination is acetylene gas (carbide), but candles may be substituted. The lantern can be dimmed or completely blacked out by means of zinc screens.
There is a special front screen with a slotted slide for lighting reference points. Just above this there is a circular slide, which can be regulated to give varying amounts of light.
Zinc side screens may be inserted to darken the sides of the lantern. When not in use, these screens are placed in a pocket at the rear of the lantern. Colored filters can be inserted in the front of the lantern whenever a colored light is desired, as for prearranged signaling.
Later in the war, in order to ease the strain on production and use of raw materials, the lantern was simplified to a sheet metal/spot welded construction, termed the Einheitzlanterne 42. Made of lightweight steel, this late-war lantern is in EXCELLENT barn-find condition! Retaining much of its original finish, there are some slight marks due to the age, but VERY solid otherwise! Some surface rust from storage, but that could be cleaned up quite easily by the wining ibdder. Features various maker marks throughout.
Normally, you find these with broken glass or parts missing, however this specific one is 100% COMPLETE! The RARE feature is that it also comes with the additional fuel/oil lamp that one could install in place of the water/carbide lamp. There are NO breaks or damage on ANY of the parts...
The rear rod (that pumps the water into the carbide section) is frozen (probably from rust). As this was used during the war, there is a bit of carbide remaining internally.
I have not tested this for functionality, but I suspect all would work PERFECTLY once cleaned up! A FANTASTIC addition to any collection or display! Powered by SixBit's eCommerce Solution.