WWII 1943 German Army Transport Junkers JU 90 W. E. F. T. U. P. ID Poster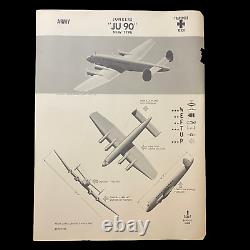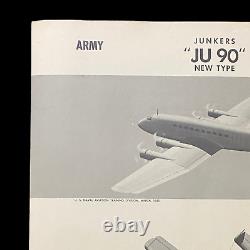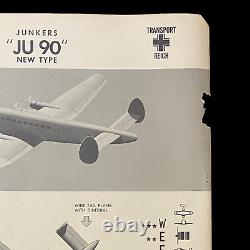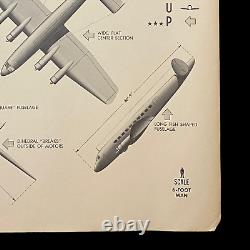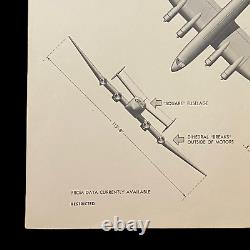 Size: 19 x 25 inches. This original'RESTRICTED' aircraft identification poster was published by the U.
Naval Aviation Training Division March 1943. This poster was posted as a training tool as well as an in theater ID poster to help U.
And other Allied pilots, bomber crews and Naval personal to identify Allied and enemy aircraft. Or Wing, Engine, Fuselage, Tail, Undercarriage, Peculiarities was a system set up for the purpose of aircraft identification and recognition. World War II saw some of the first introduction of these aircraft ID poster to prevent friendly fire and more accurate plane recognition in combat. It was believed these posters alone could save countless lives from friendly aircraft-on-aircraft or friendly anit-aircraft fire. These posters also could cut down precious second pilots, bomber gunners, and naval gun crews would have to ID a plane flying towards them intern saving their lives by shooting first. Each poster provides the silhouettes, dimensions, and relevant information to educate both air and ground personnel in aircraft identification. Immediate identification of aircraft, friendly or not, was essential in order for the observer whether in the air e.
Pilot, gunner, or patrol observer, or on the ground, e. Anti-aircraft crew to determine his next course of action e. Acknowledge, attack, evade, or report. Each poster details a large clean sky and background image of the specified aircraft located as the main top imagine on the poster. It also contains important'peculiarities' such as where certain gun emplacements are located, other special aircraft features, as well as wing and length measurements.
The Junkers Ju 90 was a 40-seat, four-engine airliner developed for and used by Deutsche Luft Hansa shortly before World War II. It was based on the rejected Ju 89 bomber. During the war, the Luftwaffe impressed them as military transports.