WWII German Army Troop Transport Luftwaffe Paratrooper Junkers JU 52 ID Poster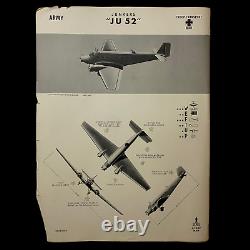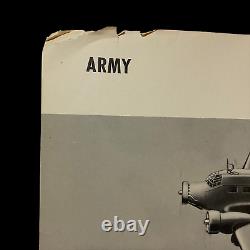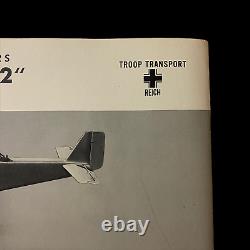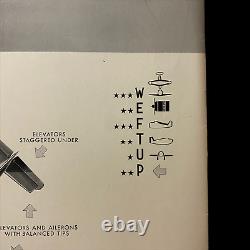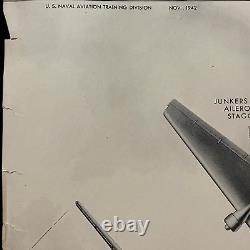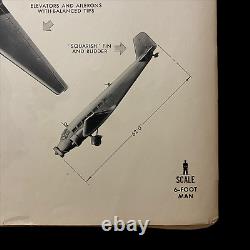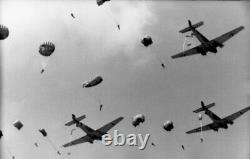 Size: 19 x 25 inches. This original'RESTRICTED' aircraft identification poster was published by the U. Naval Aviation Training Division November 1942.
This poster was posted as a training tool as well as an in theater ID poster to help U. And other Allied pilots, bomber crews and Naval personal to identify Allied and enemy aircraft. Or Wing, Engine, Fuselage, Tail, Undercarriage, Peculiarities was a system set up for the purpose of aircraft identification and recognition. World War II saw some of the first introduction of these aircraft ID poster to prevent friendly fire and more accurate plane recognition in combat. It was believed these posters alone could save countless lives from friendly aircraft-on-aircraft or friendly anit-aircraft fire.
These posters also could cut down precious second pilots, bomber gunners, and naval gun crews would have to ID a plane flying towards them intern saving their lives by shooting first. Each poster provides the silhouettes, dimensions, and relevant information to educate both air and ground personnel in aircraft identification. Immediate identification of aircraft, friendly or not, was essential in order for the observer whether in the air e. Pilot, gunner, or patrol observer, or on the ground, e.
Anti-aircraft crew to determine his next course of action e. Acknowledge, attack, evade, or report.
Each poster details a large clean sky and background image of the specified aircraft located as the main top imagine on the poster. It also contains important'peculiarities' such as where certain gun emplacements are located, other special aircraft features, as well as wing and length measurements. The Ju 52 aircraft were designed by Ernst Zindel at the Junkers works at Dessau, Germany, starting in 1928.
The design was based upon the previous W33 aircraft, also manufactured by Junkers, with the exterior constructed of strong corrugated Duralumin skin. The first prototype took flight in Sep 1930, with test pilot Wilhelm Zimmermann at the helm.
In Nov 1930, the prototype was presented to the German military, and then the general public in Feb 1931. The second prototype was converted to a floatplane in Jul 1931 and tested by Zimmermann on River Elbe. Up until the seventh example, the Ju 52 aircraft had only one engine. Beginning with the eighth, re-designated Ju 52/3m, the number of engines was increased to three.
The first 3-engined Ju 52/3m aircraft took flight on 7 Mar 1932. Realizing the demand for cargo transports was not high, the Ju 52/3m aircraft were now being marketed as passenger aircraft; the shift in marketing strategy yielded great results. Orders from civilian airliners flooded in from Finland, Sweden, Romania, and of course domestically in Germany. In late 1934, the Nazi government in Germany sought to expand the newly-formed. And made an order for 1,200 Ju 52/3m aircraft configured as medium bombers, thus born the Ju 52/3m g3e military variant. Ju 52/3m aircraft first served in combat starting in Jul 1936 in the Spanish Civil War; they served both as transports as well as bombers, participating in the bombing of Guernica. On 4 Nov 1936, the first Ju 52/3m was shot down by Russian fighters near Madrid, Spain. By Apr 1937, they were retired from combat service in Spain due to their slow speeds, though they remained in service as transports.
When Francisco Franco's Nationalists won the Civil War, 14 remaining aircraft (out of a total of 20 sent to Spain) were given to the new government as gifts. On 24 Aug 1937, the Lufthansa crew consisted of pilot Carl August Freiherr von Gablenz, flight captain Robert Untucht, and flight engineer Karl Kirchoff flew the Ju 52/3m D-ANOY aircraft "Rudolf von Thüna", fully-laden from Kabul, Afghanistan over the Hindukush and Pamir mountains into China.
They flew over the 5,300-meter high Wakhan Pass at the flight altitude of 7,000 meters, becoming the first passenger aircraft crew to fly over the Pamir moutains. Although deemed too slow, Ju 52/3m aircraft remained the standard transport aircraft of the.
During the invasion of Poland, they bombed Warsaw. During the Norwegian campaign, several Ju 52/3m floatplane variants were deployed. In May 1941, Ju 52/3m aircraft served as paratrooper transports during the invasion of Crete, Greece. In 1943, they were used to supply the trapped German 6th Army at Stalingrad in Southern Russia. During WW2, they were nicknamed "Tante Ju" by German personnel.
This item is in the category "Collectibles\Militaria\WW II (1939-45)\Original Period Items\United States\Field Gear, Equipment". The seller is "premierrelics" and is located in this country: US. This item can be shipped to United States.
Featured Refinements: Paratrooper Field Gear
Theme: Militaria
Original/Reproduction: Original
Conflict: WW II (1939-45)