1942 HELVETIA German Army DH Watch Ref. 3190 15 Jewels WWII Wristwatch 34mm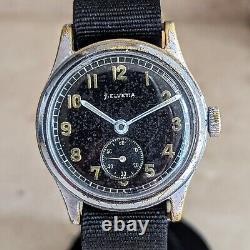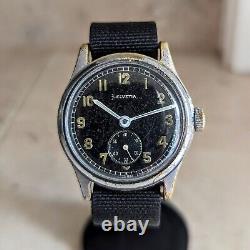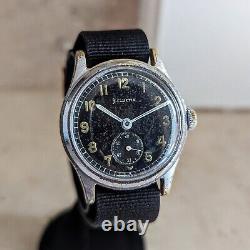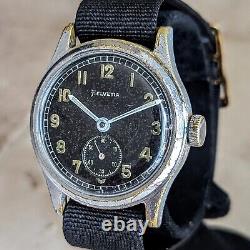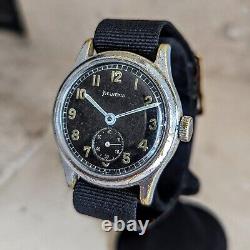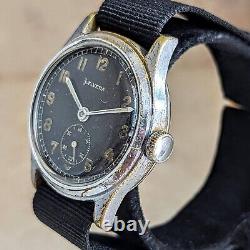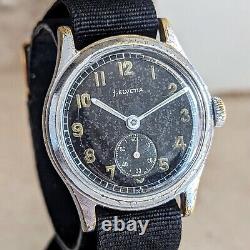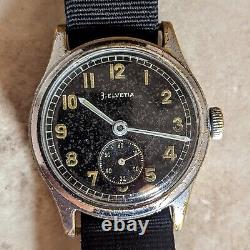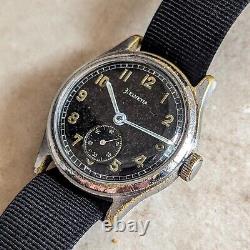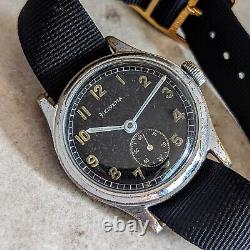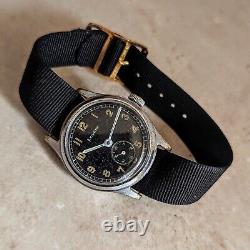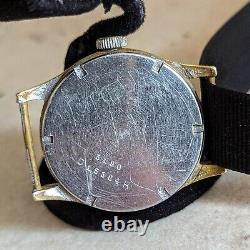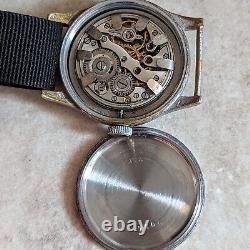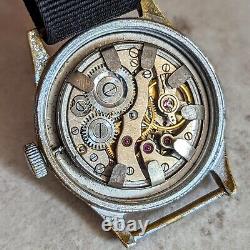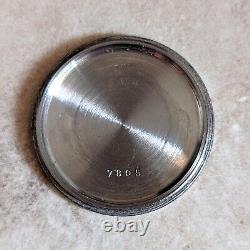 Thanks for looking, we are SECOND HAND HOROLOGY! "Helvetia's history ranges from its beginnings alongside Omega at Louis Brandt & Frere to the Swiss "Quartz Crisis of the 1970s & 80s and beyond. On the 14th of April 1892 the Swiss watch company Louis Brandt & Frere registered the name'Helvetia' as one of the brand names for their watches. Two years later, in 1894 they also registered the name'Omega' and applied it to a new range of high-quality lever movement pocket watches they had developed using cutting edge manufacturing technology. So successful were the new Omega watches that the Brandt brothers decided to form a new company alongside Louis Brandt & Frere and move the production of some of their other watches to make extra room in their Bienne factory to allow increased production of Omega watches.
On the 5th of August 1895 the new company'Société d'Horlogerie La Générale' was formed in La Chaux de-Fonds. Two years later, in 1897, the company was additionally registered under its English name,'General Watch Co', and moved its registered office to Bienne.
The start of the WWI in 1914 signalled some major changes to the Swiss watch industry. The need to be able to tell the time quickly and easily in the trenches without fumbling for a pocket watch meant that wristwatch use, and production rose rapidly and the poor conditions that a watch was liable to meet also meant that water and moisture resistance became more important. La Générale appears to have started to specialise in watches to meet the need for WWI: timepieces able tell the time quickly and easily in the trenches without fumbling for a pocket watch. That meant the use of wristwatches. Also, water and moisture resistance became more important around this time.
Same time where La Générale had developed a screw case, swing ring, pocket watch with water resistant properties. By 1903 and during the war, a large percentage of their wristwatches were of the hunter or half hunter types that included a hinged lid to protect the face of the watch from damage.
During the 1920s, La Générale continued their specialism into so called protected watches; a report on the 1920 Swiss Watch fair mentions Among other original creations we notice the miner's watch, of an exceptionally robust construction and completely impermeable. By about 1924 they had also started to produce watches with shock protection, which was very unusual at the time and initially appears to have been a version of the Depollier/Brun shock protection system patented in 1921. This was the time La Générale also began to use the English version of their company name, General Watch Co, prominently in their advertising and push the brand name Helvetia to the fore, almost all the watches they produced from the late 1920s bear the name Helvetia.
Helvetia continued to develop their water and shock protected watches throughout the 1930s; for instance, in 1931, they patented a waterproof crystal fitting. In 1933 an anti-shock movement mounting, also in 1935, the version with a center sweep-second was introduced. During this period, they are regularly mentioned in the UK Horological press as specialising in this area. The following example is from the April 1934 edition of Watch and Clock Maker. The'Helvetia' makers differentiate between their'shockproof' and'unbreakable' models, where, perhaps, others confuse the two terms and consequently confuse the trade and their wearers... The firm hold important patents on each type. The Helvetia waterproof is a very sound job and has stood up against tests that have sent many another watch to a watery grave.
Perhaps the reason that the Helvetia brand is most widely known today is for their pilots' watches. First introduced their version of the'1928 pattern' pilots' watch in 1932 and introduced their famous spinning propeller logo in January 1933 making thousands of these watches up to 1945. WWII was another time of expansion for the company, they supplied pocket watches to the British Army, as well as pocket watches and wristwatches to the German Army and specials wrist timers to the Royal Navy. By the end of the war, they also supplied timepieces to the US Army.
It was until 1948 that they again decide to change their name this time to'Montres Helvetia Société d'Horlogerie La Générale' and from this date onwards they are usually referred to as Montres Helvetia S. Or the Helvetia Watch Company. A perfect example of a soldier issued timepiece! - The only Herlvetia watch made during the Second World War. During WWII the German Military needed a huge number of timepieces, both wrist, pocket and mounted.
To fulfill these requirements, they turned to a number of Swiss watch manufacturers to meet the demands. The little official evidence that exists indicate that the watches started to be supplied in 1942 when the demand outstripped the German watch industry's ability to produce watches domestically. Until 1944, when the supply stopped in due to the increasing difficulties the Swiss watch industry had in obtaining raw materials.
While no official specification has been found, it appears the contracts for these timepieces specified that the watches should be water resistant with a screwdown caseback that had 6 indentations; the dials were required to be black with luminous numerals and hands with a small subsidiary seconds dial at 6 o'clock position and the movements shock protected. Helvetia very well known of producing water and shock resistant'Sports' watches in the 1930s, it is not a surprise that Helvetia were one of the first companies approached to manufacture some watches.
Today we are presenting a vintage military timepiece, it is a Helvetia German Army DH writwatch, case reference 3190 and dated from 1942 during the WWII era. It is a manual wind watch powered by a Helvetia Shock Absorber (commonly unsigned) movement caliber Helvetia 81 (left-handed ratchet-wheel screw), 15 jewels, 18,000 A/h and 34 hours power reserve, Swiss made. These movements were fitted with Helvetia's own patent shock protection.
Cased in a 34mm round chrome plated case and stainless-steel back, it also has a separate movement holder/spacer that fitted inside the case and held the dial and movement firmly in place in the. These cases were marked with the number 3190 and the unique serial number D15384H. Inside the case back there is the unique case serial number 7805 for this range of cases. To signify that the watches were military property and to allow a record to be kept of them they were marked with the letters "DH" with a serial number between these letters. The meaning of the markers DH, highly debated, stand for either Deutsche Heer (German Army) or Dienstuhr Heer (Service Timepiece Army).
The numbering system, also highly debated, run sequentially from number one upwards and was allocated by the German authorities not the watch maker. This means that the sequence runs across all manufacturers and types of watches and a single DH serial number should never be repeated.
As per the contract specification, this watch still has the original black dial (showing some age and patina) with radium luminous Arabic Numerals, white painted railroad minute/second track and sub-second hand. It also had white painted, tapered, hands with luminous paint applied to the hour and minute hands.
The dial is also signed with the Helvetia name/logo. This watch comes with a new-old-stock black nylon Nato one-piece strap. This watch is a perfect collector's item, it is in good condition! Runs very well, keeps good time! IMPORTANT - Please be prepared to stand behind any offer you make.
Once we accept an offer, it takes the product off of the market for us AND other buyers. If you are considering making an offer and would like to know if we would accept a price, please simply message us and ask PRIOR to making the offer.
We ask that you please make a formal offer only once you are committed to the offer. Case Diameter w/Crown 36.4.
Case Lug to Lug 40.3. Vintage watches are traditionally smaller than today's watches. Men's watches typically measure between 29-36mm wide (some larger, some smaller) excluding the crown.
In the listing details we typically try to do our best to list all pertinent dimensions of a watch. If you don't see it, or we failed to do so, please reach out to us. Women's watches from the 1900s-1970s were also much smaller than today's offerings.
Please also feel free to ask any questions you have pertaining to size. We prefer to shoot photographs outside when weather is permitting. However, when we shoot indoors, please be aware that we shoot our photographs inside of lightboxes that are lit with 360 LED bulbs. This indeed magnifies any flaws. Usually, they are much less obvious to the naked eye.
Having said that, we never photoshop any of our photography, remove blemishes, etc. We adjust lighting when necessary, but what you see is what you are getting, and we take pride in that.
The item may have some signs of cosmetic wear but is fully operational and functions as intended. Please review the photos and feel free to ask any questions you may have. It will be carefully packed. Please view our other listings.
If this item is a watch, unless otherwise noted, it is keeping accurate time over a 2-4-hour time period. We specialize in watches that are 20-100 years old, and as such, these items are previously worn, and the quality of the item WILL reflect that. Expect for a vintage timepiece to have blemishes...
This is part of what gives these amazing pieces their charm. Further, unless a watch specifically says that it has been recently serviced, expect that at some point in time, this timepiece will need a professional servicing in order to run and keep excellent time, which is also part of the experience of owning any mechanical watch.
If an extremely accurate, worry-free experience is what you are seeking, we would recommend purchasing a new quartz watch. Very few, if any, vintage watches will keep as accurate time as a modern quartz watch. We do our absolute best to take accurate photographs of our items and to show any blemishes. Examples of common characteristics of a vintage timepiece are: -imperfections on the crystal -imperfections on case -imperfections on the lugs -unless stated that the strap is new, the leather is often quite old and may need replacing in the future -metal bracelets may not include all of the links that the watch originally may have come with, but can be replaced with a bracelet or strap of your choosing. If the item is a piece of vintage jewelry, be aware that the item may have some minor blemishes such as: -missing stones (view photos, we will NEVER photoshop in a missing stone or piece) -minor scratches or discoloration -fading of plating -fading of paint.
We do our best to take accurate photos and provide accurate descriptions. We want this purchasing experience to be pleasant and surprise-free. Vintage and antique items, unless "new old stock", have been around the block a time or two. Thank you for your business!
We hope to see you return in the future!