WW II German Army 122. Infanterie-Division PRESENTATION ASH TRAY COMMANDER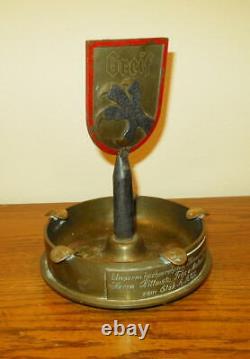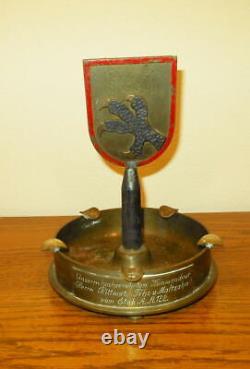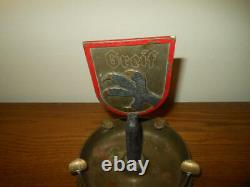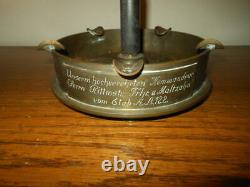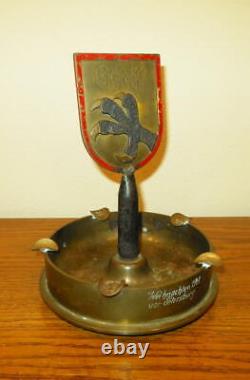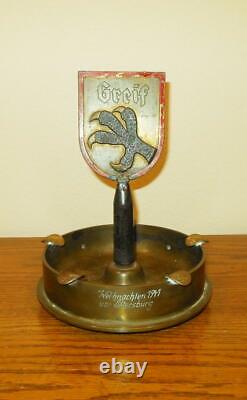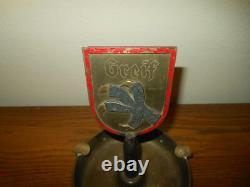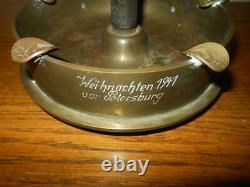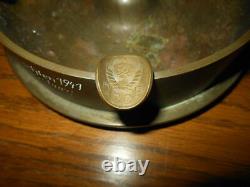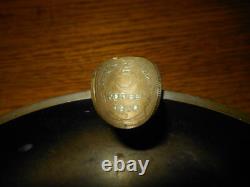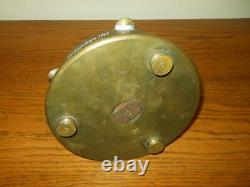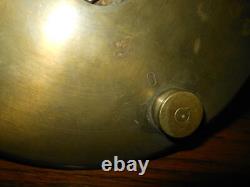 This was presented to Rittmeister Bernd-Joachim Freiherr von Maltzahn! He was the Commander of Aufklarungs-Abteilung 122 "Greif" (part of the 122nd Infanry Division). The 122nd Infantry Division was a German division in World War II. It was formed on October 5, 1940. Operation Barbarossa; Siege of Leningrad; Demyansk Pocket; Battle of Tali-Ihantala; Battle of Vyborg Bay (1944); Battle of Narva (1944); and the Courland Pocket.
It surrendered to the Soviet forces in Kurland at the end of the war. The emblem/logo consists of a shield featuring a Griffon Talon below the word "Greif". Made of brass and steel, this Trench Art Presentation Ash Tray, is an AMAZING piece of history! Made from the base of a 15cm sFH18 Brass Shell, it features 5 Russian Coins that have been curved for holding cigarettes/cigars. In the center is a 20mm FlaK shell that adorns a prominent "Greif Division" Logo (double-sided) on top.
Some slight paint loss, but nothing that detracts. Each side of the ashtray has an engraved section that indicates. Unserm hochverehrten Kommandeur Herrn Rittmstr. Promiment markings on the base...
And the feet are made from three 20mm Flak Rounds. The shiled is a bit loose on top, but it does not detract.
Marks due to the age. Would make for a PERFECT addition to any collection or display! Most of my items are vintage, and as such are AS-IS, so you must therefore expect a degree of wear due to age and/or usage. Although my passion is the Me109, I do offer many other German Aircraft Fw190, Me262, etc.
, as well as USAF and Japanese items. Occasionally I do offer many non-vintage items such as prints and art relating to the time period. Use is solely based on my authorization only.
Powered by SixBit's eCommerce Solution.