WW II German Army 7x56 HENSOLDT ROOF PRISM PANZER BINOCULARS CAPTURED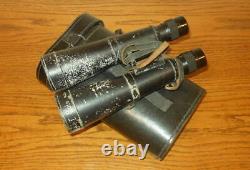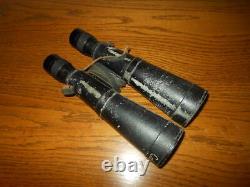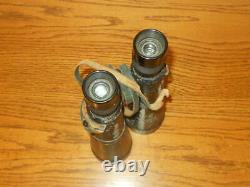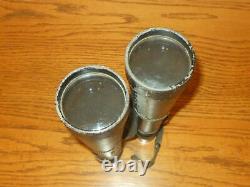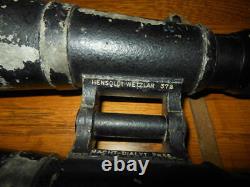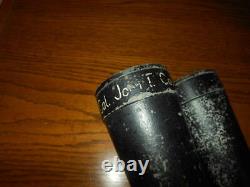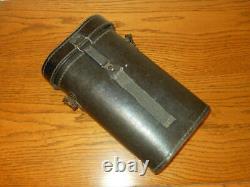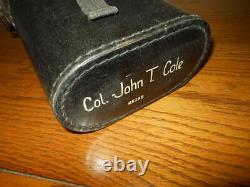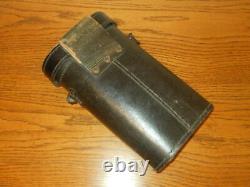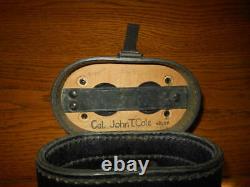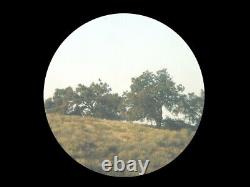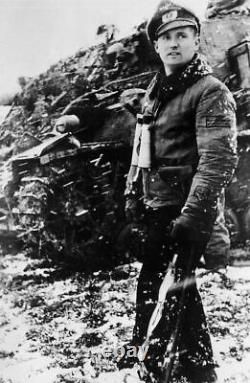 These were captured and used by Colonel John Tupper Cole (Commanding Officer of the 5th Armored Division) after landing on the beaches of Normandy. The German Army used a wide variety of optical equipment, including a 6x30 (6 power magnification with 30mm objective lens, being the standard issued optics used by all branches of service).
Though this type was the standard, specialized personnel required stronger optics (such as this 10x50), and were issues to personnel on a limited basis. Due to their compact and lightweight design, the Roof Prism style was favoured by most Panzer Tank Crews.
John Tupper Cole (July 23, 1895 - April 24, 1975) was a highly decorated officer in the United States Army with the rank of Brigadier General. A graduate of the United States Military Academy and veteran of both World Wars, he is most noted for his service as Colonel and Commanding officer, Combat Command B, 5th Armored Division during the combats on Western Front. Following the United States entry into World War II, Cole was transferred to the Armored Force in July 1942 and assigned to the 5th Armored Division that October. He later assumed command of 81st Armor Regiment and remained in command of that outfit until September 1943, when he was ordered to Pine Camp, New York to rejoin the 5th Armored Division. Cole was subsequently appointed Commanding officer, Combat Command B, a combined brigade size unit of tanks, armored infantry, armored field artillery battalions and engineer units.
He embarked with the division for France in June 1944 and landed on Utah Beach on July 24. He led his unit during the last phase of Invasion of Normandy and Combat Command B participated in the combats near Argentan and Dreux.
The Combat Command B (CCB) cleared the enemy between the Eure and Seine Rivers and streaked north through the Compiegne Forest to the Belgian border at Conde. Following a fighting in Luxembourg, Cole's troops were the first Allied units to cross the German border, when a small patrol from Troop B, 85th Cavalry Reconnaissance Squadron crossed the Our River boundary at Stalzemburg at on September 11, 1944. Cole then led the CCB during the fighting in the pillbox area beyond Wallendorf in order to draw large German forces from the Aachen area.
The CCB then capture the city of Rheindahlen in February 1945 and stopped at the Elbe river on April 13, 1945. During that period, CCB participated in the total destruction of Panzer Division Clausewitz. For his leadership of Combat Command B throughout the War, Cole was decorated Silver Star, Legion of Merit, five Bronze Star Medals and Purple Heart for wounds sustained in combat. Cole was promoted to the rank of Brigadier general in mid-1950 and appointed U.
Member to the Security Council of the United Nations. In September that year, he was ordered to Bangkok, Thailand and tasked with the organization of the United States Military Assistance Advisory Group. Cole served as the Chief of Advisory Group during the Korean War and helped to train the Thai Armed Forces for combat deployment. He also served as an observer of Thai troops in Korea. For his part in this assignment, Cole was decorated with the Order of the White Elephant by the Government of Thailand.
Cole also served as Acting division commander from November to December 1952 and retired in mid-1953. Made by Hendsolt Wezlar of a large tooled alloy and aluminum construction, these 7 x 56 power binoculars are an AMAZING piece of history!
The lens bodies retain about 80% of their original, rough textured, Black finish. The aluminum end piece fittings retain about 98% of their original finish, and the eye sockets are intact. Some slight chips, scratches, and wear throughout, but nothing that takes away from the overall appearance. The focus adjustments are very loose, and need to have upward/downward tension on them in order for them to function (probably need some tightening/adjustment). The optics are still very clear with almost NO spotting (though a bit hazy).
Optics are in PERFECT alignment! E body is well marked with the impressed designation. The LOW serial number indicated that these were manufactured quite early (pre-war), though they do have a wartime (1944) case. Neck strap is original to the binoculars, but it is a bit fragile, and it does have a break.
Cole painted his name, rank, and serial number on the side, indicating. The leather case also remains in EXCELLENT condition. Dated 1944, he also wrote his name on the bottom and inside of the flap. The button closure is still present and is functional. A SUPERB piece of WW2 History from the estate of a WELL-KNOWN and DECORATED Colonel, it would make a PERFECT addition to any collection or display!
Most of my items are vintage, and as such are AS-IS, so you must therefore expect a degree of wear due to age and/or usage. Although my passion is the Me109, I do offer many other German Aircraft Fw190, Me262, etc.
, as well as USAF and Japanese items. Occasionally I do offer many non-vintage items such as prints and art relating to the time period.
Use is solely based on my authorization only. This item is in the category "Collectibles\Militaria\WW II (1939-45)\Original Period Items\United States\Field Gear, Equipment". The seller is "messerschmitt_109" and is located in this country: US.
This item can be shipped worldwide.