WW II German Army Panzer TANK RETURN WHEEL StuG III COMPLETE V. RARE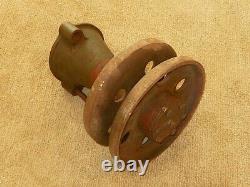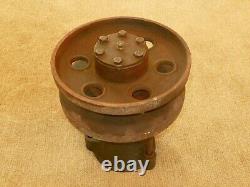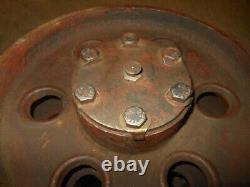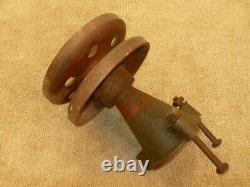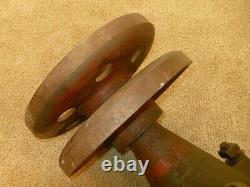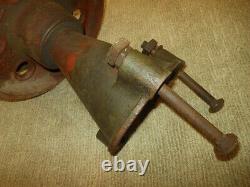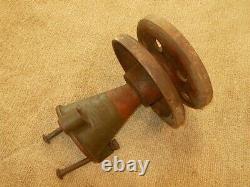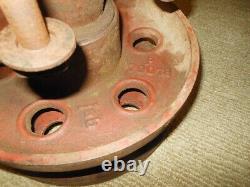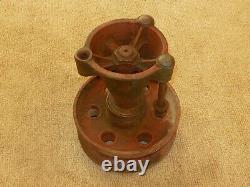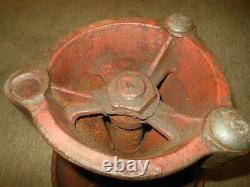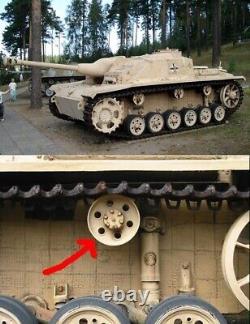 The Sturmgeschütz III (StuG III) assault gun was Germany's most-produced fully tracked armoured fighting vehicle during World War II, and second-most produced German armored combat vehicle of any type after the Sd. It was built on a slightly modified Panzer III chassis, replacing the turret with an armored, fixed superstructure mounting a more powerful gun. Initially intended as a mobile assault gun for direct-fire support for infantry, the StuG III was continually modified, and much like the later Jagdpanzer vehicles, was employed as a tank destroyer.
Made of solid steel, this Return Roller Wheel is in AMAZING used condition! It still retains MUCH of the original paint and finish, with NO damage!
Some slight marks and wear due to the age, but nothing that detracts. Attached to the ORIGINAL mounting tower, it is 100% FUNCTIONAL, and still has two of the original three retaining bolts! Wheel still spins as freely as it did when it was made. Some manufacture codes are cast into the back of the wheel. Brought back by a US Serviceman, it is a later example so it probably dates around 1944.
EXTREMELY RARE as all the wheels that come up nowadays are all dug relics. 12 in diameter and there are no breaks or cracks!
I have shown the location in the last photos. It would make a PERFECT item for any collection or display!